Many families with young children from 4 to 12 years old are looking for snorkeling experience in Vietnam, a country with more than 3000 km of coastline and many beautiful coral reefs in Vietnam. Da Nang, Nha Trang, Hoi An, Qui Nhon, Phu Quoc, Con Dao, Tho Chu… You've decided to take the plunge and head out on that long-awaited family snorkel trip – but where should you head?
To answer this question, the following factors need to be considered when your family is considering a snorkeling experience with your kids.
1. ADVERAGE DEPTH OF THE REEF SUITABLE FOR YOUNG CHILDREN
The sights your kids will see on their watery adventures will feed their imaginations for months on end, and they're likely to develop a lifelong love of the ocean too – who knows. Then the reef depth is an optimal condition to consider about at first.
The average depth for young children to experience a fantastic snorkel adventure is considered ranging from 1 to 2.5 meters. This is also the easiest depth with a close range for kids to observe the color and vibrancy of the reef. However, many coral reefs have uneven terrain that will undulate and shallow places. Therefore, creating obstacles on the experience diving route, this will cause a bit of difficulty as well as underwater guides familiar with the terrain to avoid stranding in too shallow waters, causing injury to children's bodies or even to parents, not to mention unintended coral breakage.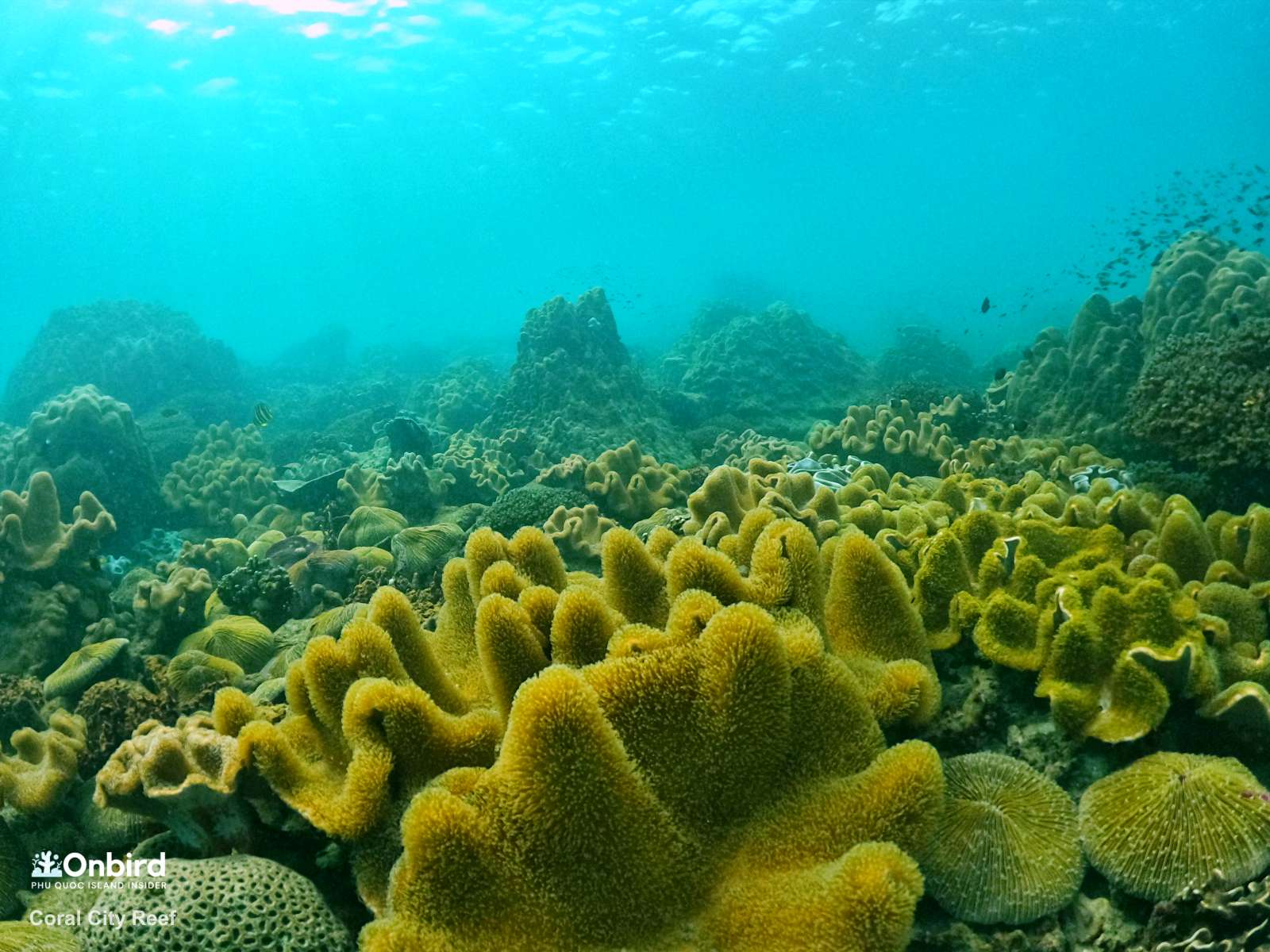 In Vietnam, the most renowned diving spot (on the internet) is probably Hon Mun in Nha Trang, where the terrain is steep, corals are located at a depth of up to 10m. However, with this depth range, it is almost impossible to see corals from the surface, as for the little snorkelers.
During a professional snorkeling/ diving experience with OnBird Phu Quoc, both parents and children will be taken to a shallow and current-free water. At that spot, there's time for your kids to become accustomed to the sensation of snorkeling before venturing into deeper waters, to familiarize themselves with snorkel equipment as well as safety instructions. This is essential to prepare the best for an enjoyable and safe experience.
2. UNDERWATER VISION
Underwater visibility is the most important factor in the coral reef diving experience. Unlike adults or experienced explorers who can dive to see the coral up close, 99.9% of young children are only able to see the coral from the water surface so the visibility combined with the depth greatly influences the children's first experience. Visibility from 3-5m combined with shallow coral reef is considered good for the experience level of young children, vision 7-8m is extremely ideal. Underwater visibility is influenced by currents and reef topographical structures, so to make an underwater vision forecast and to arrange the experience time frame for optimal visibility requires the operator of the organization. Professional diving experience organizations must have understanding of coral reef topography and forecast currents by day, different time frame in a day. That will bring the best experience for the baby and parents.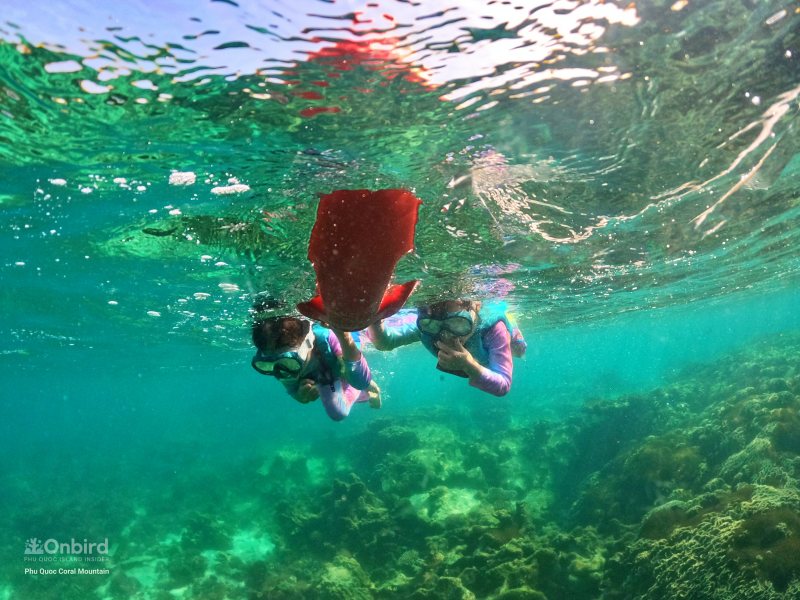 3. CURRENT AT THE CORAL REEF
Unlike swimming in a pool, swimming in open water as in the sea, there will always have currents. In particularly, currents frequently come to the reefs o help remove sediments from the coral as well such as helping dispersed coral larvae to proliferate. Strong currents will be dangerous for families with young children, which can cause parents and your kids to lose their composure and panic if they do not know how to handle it or have a swimming instructor to guide them out of the current to a safe location. enjoy or even have fun in the flowing water with the drifting technique. OnBird Phu Quoc builds an advanced water condition forecasting model based on weather data and water conditions collected over many years, thereby making forecasts about water conditions: wave strength, water flow, range time frame underwater with 95% accuracy.
4. THE REEF VARIETY AND CORAL HEALTH STATUS
Not similar to soft coral species, hard corals are types which basically need sunlight to help with photosynthesis to create nutrients for algae and corals, so only coral reefs can be seen strong in shallow waters, especially from 0.5m to 3m, the lower the average depth of coral reefs, the higher the coverage and diversity.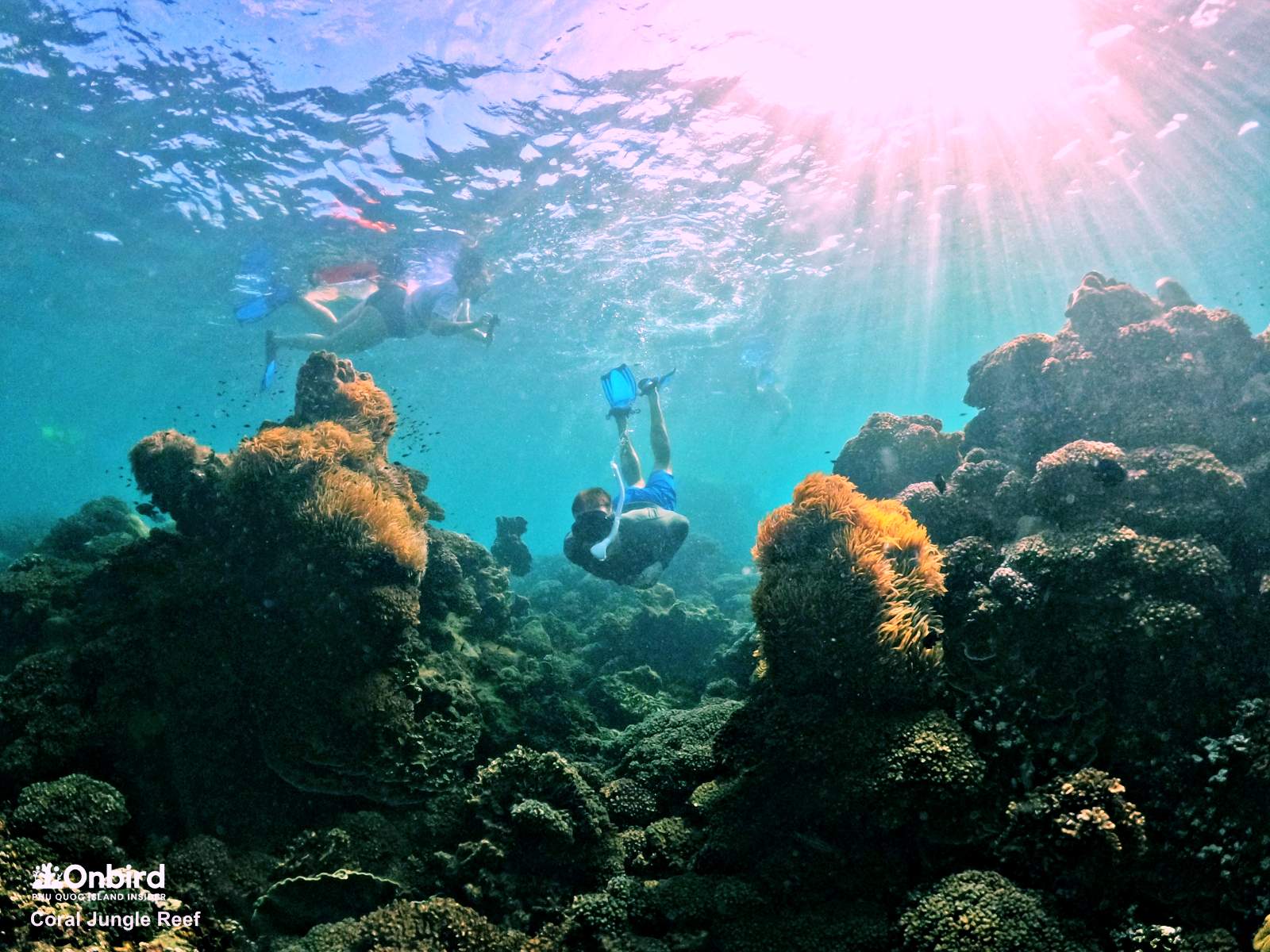 Young children are those who are at process of brain development, imagination, a healthy and diverse coral reef will stimulate the baby's imagination, like being immersed in the world of fishes, swimming together. Wading in the coral forest filled with colors will be a deeply unforgettable experience for your baby. A healthy reef with a high percentage of live coral in shallow water will satisfy the above requirements.
Read Full article at here.