When you think of Phu Quoc – a tropical island in Southeast Asia, your minds conjure exactly that—palm trees under a bright, clear sky, long white-sand beaches, in front of newly-built resorts,…it can get a little, well, kinds of Southeast Asia tourism development trend.
Yes, frankly, the situations might be the same in the Southern Phu Quoc, but it's strikingly different in the Pristine North of the island. We aim to instil a new spirit of optimism in our upcoming guests to visit the island after 1 and a half year of closing borders, helping to renew and ignite your journeys to getting back to your best selves, so less-known parts of Phu Quoc will surely attract your attentions.
In this article, Vung Bau Bay area in the Northern Phu Quoc island is specially highlighted.
VUNG BAU BAY LOCATION & ITS SURROUNDS
Vung Bau or Half-moon Beach is one of rare beautiful & quiet beaches in Phu Quoc island.
Half-moon bay belongs to the Northwest coastline of Phu Quoc Island. The beach, which lies in-between Casuarina Beach (Bai Dai Beach) and Cua Can Beach , is located on the upper west coast just past the town of Cua Can commune and approximately 20 km from Duong Dong.
A wide crescent bay backed by dense tropical foliage, Half-moon Beach is located on the underbelly of Vung Bau Cape and at the further side of the cape is Casuarina Beach.
Calm blue water, white sand, and thick tall grass growing by the shore make this a peaceful and private as well as untouched beach, so many foreign visitors who make the trip here don't feel the need to do swimwear. Bring a simple picnic and a good book, and find yourself a hideout to while away the day among the grass.
If you get hungry, there are a couple of large but makeshift seafood restaurants along the beach, typically Vung Bau Restaurant. Or if a day at Half-moon Beach isn't enough, there are a number of mid-range resorts here: Vung Bau resort, Wild Beach bungalow, Gold Sand bungalow, Bamboo cottage, Mai Phuong, Nam Nghi resort, Fusion resort.
KAYAKING IN HALF-MOON BAY
One of our guest's favorite visits to here was to experience kayaking in Vung Bau bay – a crescent bay.
Check out the way leading into Half-moon beach here, we went to Gold Sand Bungalow, actually, this is just one of the optional places to rent a kayak with unlimited timing, you can find kayak rental services at Mai Phuong or Vung Bau restaurant which are located right at the turning point of the dirty lane leading to the Half-moon Beach (Vung Bau).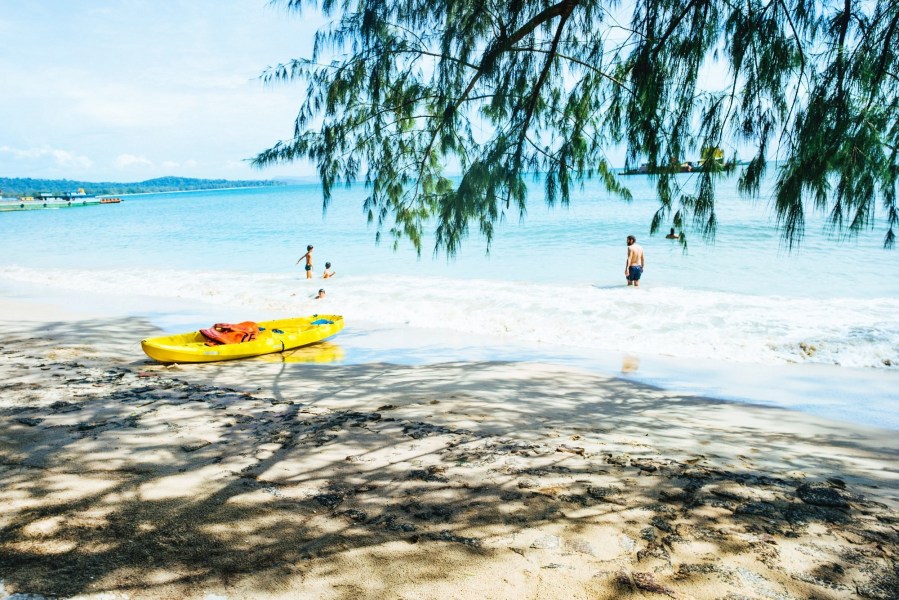 During the Dry season (check out Phu Quoc Weather here), the crescent bay becomes quite calm like a vast reservoir when the afternoon comes, an ideal place to stroll along the coastline but you can do some other extremely amazing experiences instead. Highly recommend you kayak in the sea, how clean & turquoise the water is!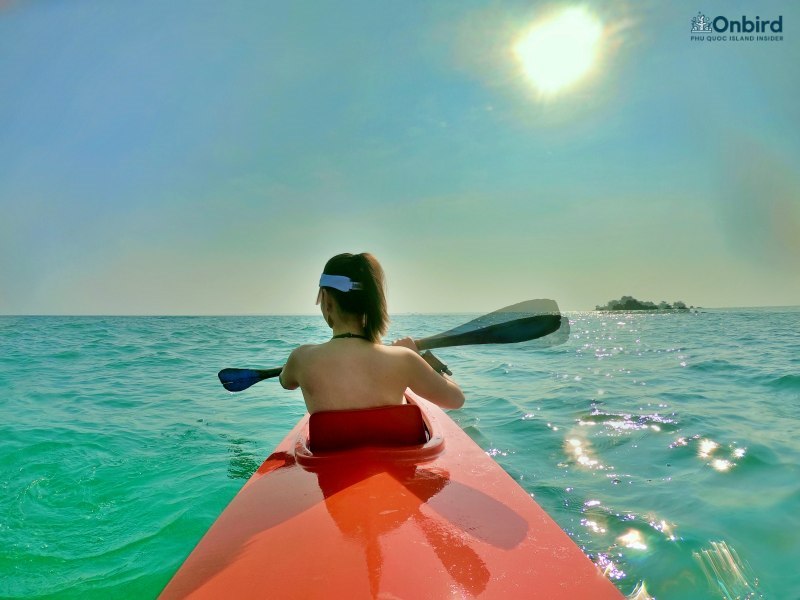 Instead of whiling away time on the beach with useless books of sort of those things, we could put Northern Fingernail Island which is away about 1 km off the beach on target, let's get your good accompany on kayak and take her/ him to a remote place on the sea.
What do you need to prepare for a 1 – 2 hours voyage? Yes, bear in mind the principle: "safety first" life vests are always on you regardless of how good you are capable of swimming and a couple of bottles of water, you won't die for lack of food but freshwater at least for few days! Just kidding, all will be fine, you will be there and come back whole at ease.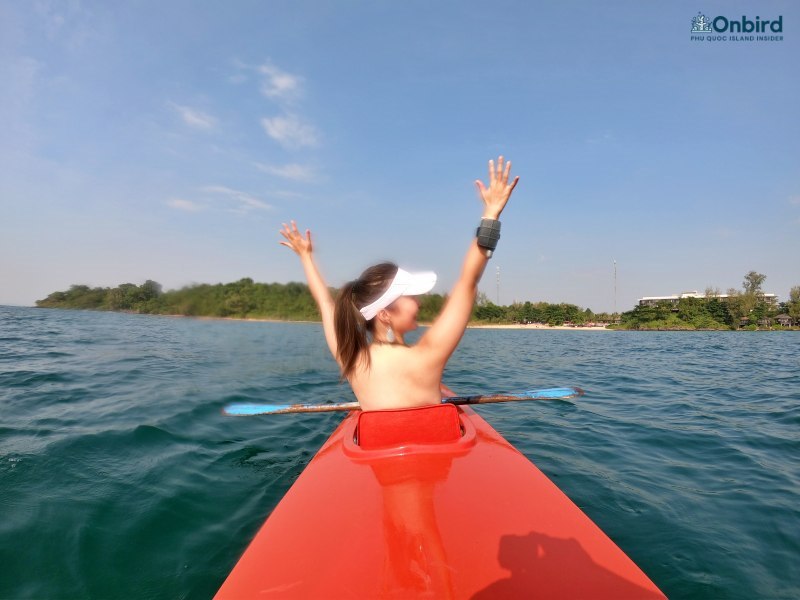 By the way, if a life vest is not a good idea for you, Kingii is the new wearable for all of you who love the water. Thanks to its unobtrusive design, you can comfortably wear it on your wrist, when you go sailing, surfing, kayaking, paddling or swimming. If you need help to stay afloat, pull the lever and an inflation bag emerges that pulls you to the surface.
OK! As everything is OK, take a kayak to the beach, arm yourself with patience, self-confidence and of course the paddle is indispensable in this "voyage".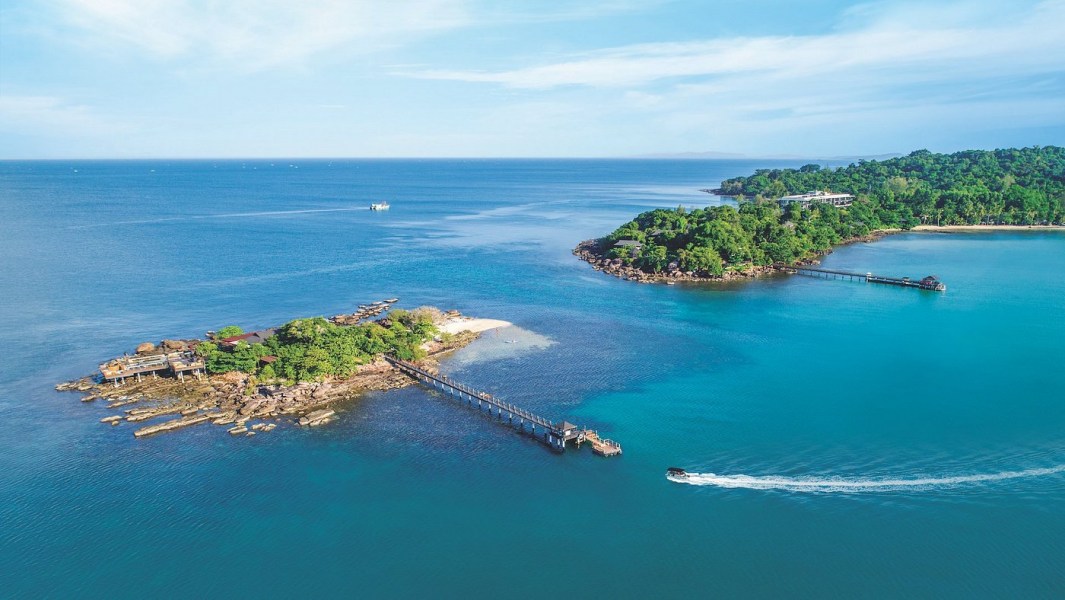 Before paddling, let's have a glimpse of the map, of course, you won't have an aerial map like this, through our experience it takes about 30 minutes to reach Fingernail Island by kayaking under convenient conditions of calm water, light wind.
Another bird eye view of Northern Fingernail island (the Mong Tay peninsula) and the small beach afar.
Now get on your boat, start our voyage, aim the paddle at Northern Fingernail Island. Around Fingernail you even can do snorkeling as you see a fringing reef about Northern Fingernail Island through the photo below.
And reveal another thing you will run into, especially when approaching the pier here is a lot of schools of Atherinidae.
Another experience that you will obtain is to reach the sand beach of Fingernail Island, just a small beach on the vast ocean, sound amazing.
You could do some things here such as taking photos, swimming, Phu Quoc Northern Fingernail Island is also the location of Phu Quoc Rock Island Club – one of the most ideal places for admiring the sunset, but its opening time is in the evening thereby it seems to be not suitable for you to stay here until the opening time. On account of the dark then when the sun starts to go down, you should start to paddle back to the beach.
Kayaking around Northern Fingernail Island ,you will have the opportunity to admire the beautiful architecture of Nam Nghi resort situated on Vung Bau cape which lies in a vast green forest.
You could make use of backing time to admire the pristine scenery of Vung Bau Bay of the late afternoon, look at dense foliage along the beach and see white smoke flying up from the housings of local people behind the line of coconut trees, casuarina trees. It is quite a peaceful atmosphere.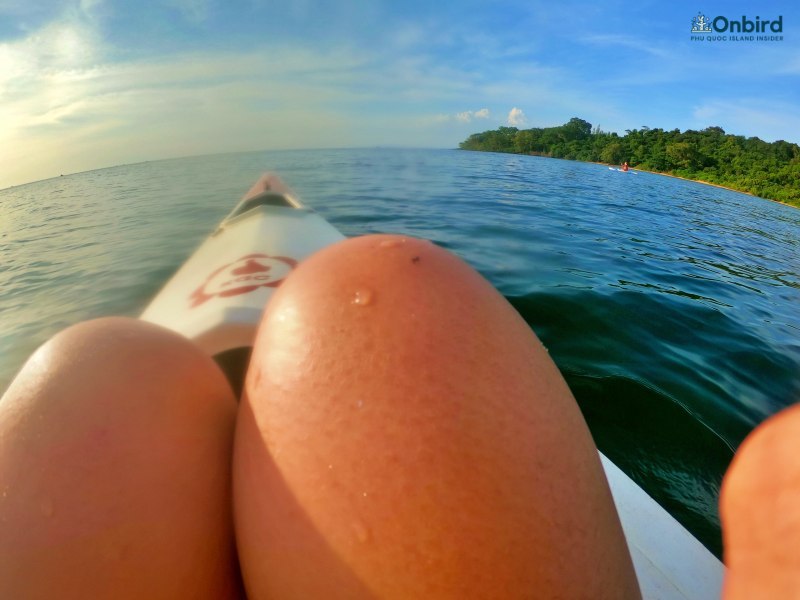 Bright sunset beyond the Northern Fingernail Island, on the way back, don't forget to rear your head for sunset and the beautiful coastline of around 3 km long backed by dense casuarina trees.
For me, we did paddle back to the smooth watery at the front of Fusion Phu Quoc resort and enjoying the quiet atmosphere with my friend right on the sea, we looked at each other, smiled sweaty together and of course, didn't miss the sunset behind.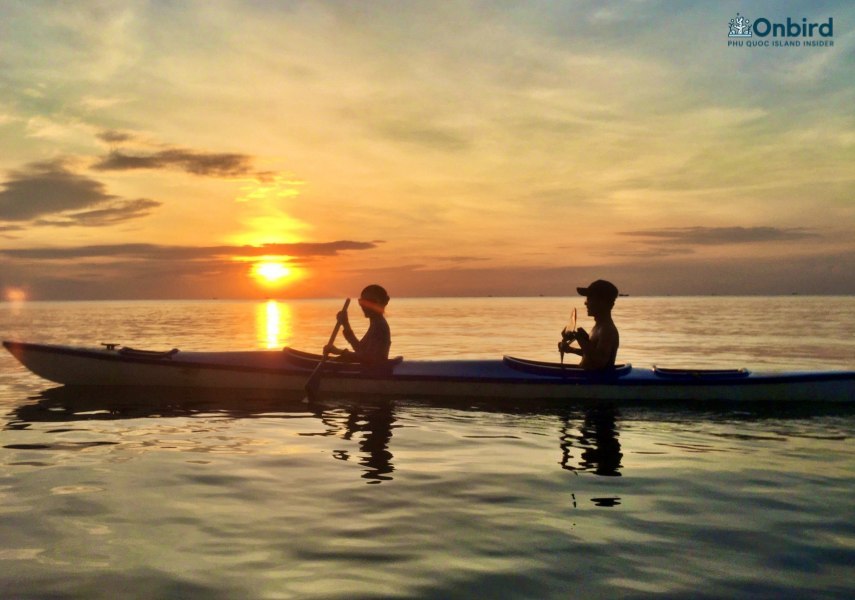 Sunset view from the beach at Fusion Phu Quoc resort, not far from our departure point, kayaking in sunset time in Vung Bau Bay, along Half-moon Beach (Vung Bau) is an absolute must-try if you visit Phu Quoc.
Come back whole after enjoying the sunset on the bay, you could enjoy the last moments of sunset time on the beach.
You could have dinner here, a not bad idea after kayaking, but put the case of dark in your account if you will be staying far away from Half-moon Beach – Vung Bau.
In rest interval after kayaking time and before dinner you could tell friend some stories.
DIVE INTO 15 OTHER BEAUTIFUL BEACHES OF PHU QUOC, LATEST UPDATED IN SEP 2021.