Live report: Welcome first European tourists to Phu Quoc Island after 2 years of tourism closure
This afternoon, the private jet carrying 7 Hamilton family members departed from Nakhon Pathom, Thailand just landed at Phu Quoc International Airport at 16:35.
The Hamilton family will enjoy their Christmas and New Year's Eve holidays during 12 days 11 nights with 3 other family members arriving from Hanoi. After a lot of efforts, their family reunion on this special holiday in our Pearl island is a meaningful event not only to the family themselves but to the operators and local travel establishments.
---
Mr. Roger James Hamilton (born 7 August 1968) is a Hong Kong born, Singapore-based author, educator and social entrepreneur. He is the founder and CEO of Genius Group, a global entrepreneur education company. He is also best known as "Asia's leading wealth consultant" and the creator of the "Wealth Dynamics" profiling system for entrepreneurs, which is a psychometric test for entrepreneurs and businesses.
After 2 years of waiting in nervous, Mr. Roger James Hamilton has chosen Phu Quoc as the place for the family reunion, with the family of members living in Hanoi who have been to in Phu Quoc 5 days before the reunion day.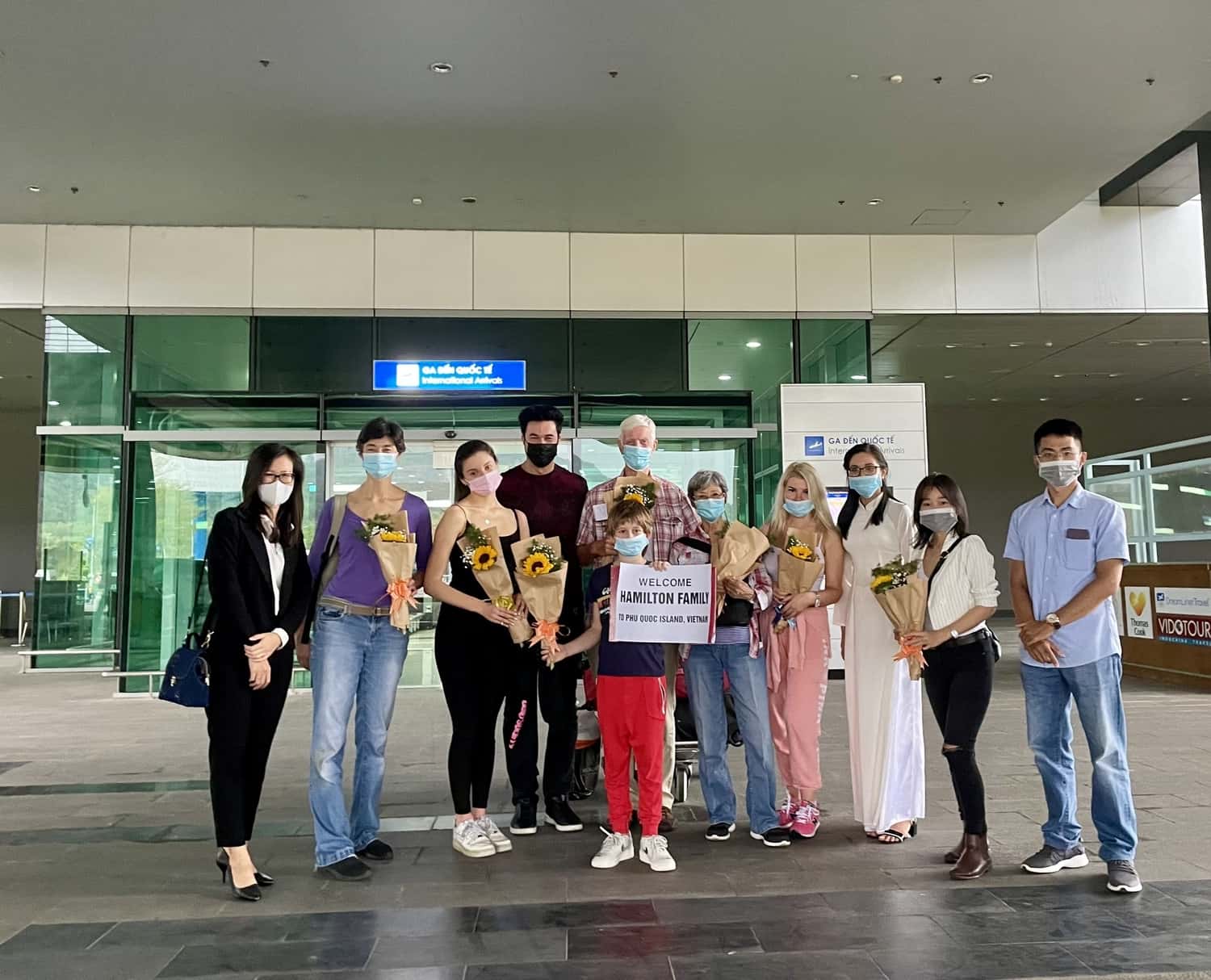 Activities of the European guests during 12- day vacation in Phu Quoc Island?
The Hamilton family will stay at Mövenpick Resort Waverly Phu Quoc – 5 star resort on Ong Lang Beach, snorkeling and sightseeing activities is scheduled and approved by the Tourism Department of Kien Giang Province.
During the 12 days and 11 nights at Mövenpick Resort Waverly Phu Quoc, our guests would be tested twice, once when they enter the island and again when they complete the Sandbox package (7 days 6 nights).
In the first 7 days and 6 nights of the vaccine passport package, 02 three-bedroom private pool lake view villas are arranged for the family. They are two of 79 large villas overlooking the dazzling sunsets of Phu Quoc island.
This is also the first group of European tourists visiting Phu Quoc after nearly two years since Vietnam closed its borders and canceled all international flights due to the pandemic.
Our guests will enjoy their exclusive private Christmas dinner in their villas. On the 27 December, professional tour guides will escort them to the An Thoi Archipelago and indulge in the most anticipated activity while in Phu Quoc – genuine snorkeling. Our guest will embark on a private charter speedboat following touristy-avoiding routes to discover two of the most beautiful snorkeling sites in the South of Phu Quoc: Half-moon reef and Phu Quoc Undersea Coral Mountain. There are underwater guides supporting our guests during snorkeling time and showing them the very best of Phu Quoc coral reefs and abundant marine life.
For International Tourists, Travelers… who are wishing to visit Vietnam during the pilot reopening time, please contact us for a private jet package to Phu Quoc Island and Vietnam. For charter flights, please fill out the form.