Before entering the country, tourists need to prepare the necessary documents and install and declare health through Vietnam Safe Travel application (Vietnam Safe Travel – VST) on smartphones; save the QR code or print the QR code to present at the border gate.
At the airport, tourists need to strictly implement the COVID-19 prevention and control measures, especially the 5K message of Ministry of Health. Tourists have to present the required documents to quarantine officer and immigration control officer, carry out temperature measurement, COVID-19 screening, check information and confirm the completion of information declaration.
For tourism service providers, Ministry of Culture, Sports and Tourism will coordinate with the People's Committee of Kien Giang Province to develop criteria and select tour operators, accommodation establishments, transportation, tourism services meet international standards to serve international visitors according to regulations, ensuring both safety and service quality.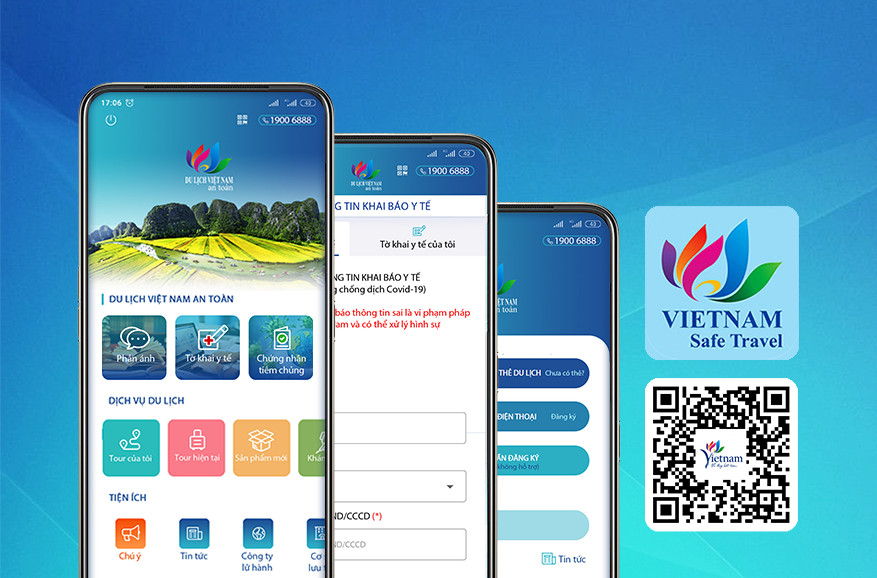 Service providers must publicize and inform tourists about the safety instructions of the Ministry of Health, specific measures will be applied at each accommodation establishments, attraction, and tourism services include handling measures when tourists have symptoms of COVID-19 infection before, during and after the trip. Setting up a hotline; arrange staff to support tourists; applying technology in monitoring tourists' activities.
With app Vietnam Safe Travel, tourism businesses update health information as well as itineraries and activities of international tourists during their trips in Vietnam. Information will be stored, confidential and used only in the prevention and control of COVID-19.
Notably, Vietnam National Administration of Tourism's application system on vaccination certification, which is built to be compatible with European standards, will issue a unique QR code using during travelling in Vietnam. This is an important tool to help control and ensure safety for international tourists from entering to exiting Vietnam.
Reporting about pilot plan to reopen international tourism on September 23, Mr. Bui Quoc Thai, Director of Kien Giang Department of Tourism said the province has been selecting qualified tourism and travel establishments, proposed the appropriate tourist routes and attractions for visitors.

Tour programs for international tourists are designed separately, ensuring safety against pandemic.